Army recruiting notes: Whos in it for Campbell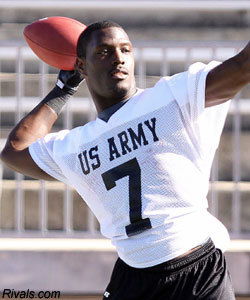 Campbell, a 6-foot-5, 317-pounder, committed to Michigan back in the summer of 2007 but de-committed in September of 2008 so he could see other schools. Since that time, Campbell has taken official visits to Alabama, LSU, Michigan, Florida and Miami. However, most expected he would re-commit to Michigan on Saturday at the U.S. Army All American Bowl. That was until Campbell arrived in San Antonio on Sunday when the player's registered.
Numerous sources have confirmed that Michigan is still in the picture for Campbell and will be one of the candidates for his pledge on Saturday. One source went as far as saying that he felt Campbell would certainly re-commit to Michigan, noting the big defensive tackle's sense of humor and tendency to joke around.
DUCKS ARE HOT
Speaking of Boyd, he also loved his recent official visit to Oregon and is expected to decide between the Ducks and Ohio State this weekend.
ETC.
[rl]