Army Bowl: Recruit survey
SAN ANTONIO, Tex. -- With some of the nation's top talent all gathered together in one place at the Army All-American Game, we decided to have some fun and get their feedback on their experiences with other prospects at the event and the recruiting process as a whole.
Here's what they had to say:
Question: Who is the funniest fellow prospect you've spent time with this week in San Antonio?
Most Common: Julian Rochester
Second Place: Ben Cleveland
Rivals250 ATH Marquez Callaway: Ohio State commit Jonathan Cooper. "Funniest or funniest looking? Because we've got a lot of funny-looking people."
Rivals250 and Ohio State commit WR Austin Mack: Rivals250 Georgia commit Julian Rochester. "Rochester, that man is a fool. Big ol' lineman. He's just a big ol' clown, all the linemen are.
Rivals100 and Florida State commit DT Janarius Robinson: "Trayvon Mullen or Julian Rochester. They just be clowning all the time for everything."
Five-star Clemson commit DT Dexter Lawrence: "There's a lot of clowns. I don't even know. There's a lot of people out here that make me laugh."
Four-star LB Brendan Ferns: "If I had to pick the funniest guy, it'd probably be Ben Cleveland. He is just a country guy and he walks out here like the first day, he's wearing his belly hanging out, his girdle on, pads sticking out."
Five-star TE Isaac Nauta: "Chase Lucas or Feleipe Franks. Felipe, right now he's doing ladder work while on the phone. He just does stuff like that. And Chase Lucas, just some of the stuff he says, you just start dying."
Four-star Louisville commit QB Jawon Pass: "Ben Cleveland. He's just big, he's country, he's just funny. Everything he says is so funny."
Question: Who is the best recruiter among the other prospects you've interacted with?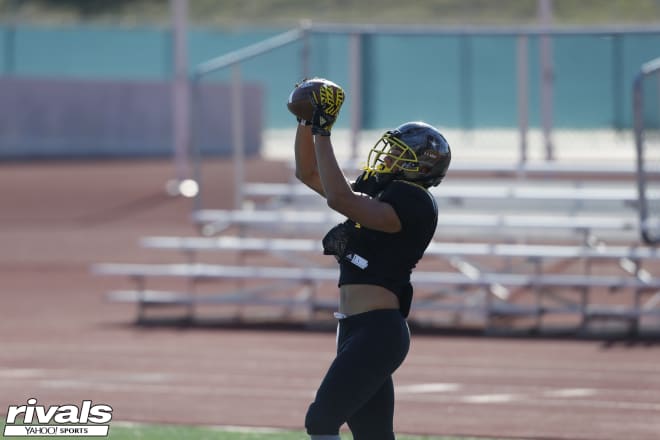 Rivals250 and Ohio State commit OT Michael Jordan: Austin Mack and Jonathan Cooper. "I'd say us at Ohio State. We're trying to recruit Donnie Corley."
Mack: "Me and [Jonathon Cooper] are recruiting everybody, talking to everybody and what not, Donnie and all them."
Callaway: "Them Clemson boys. Tavien Feaster and Dexter Lawrence."
Robinson: "I say me and Josh Brown. We're trying to get all these boys to come to Florida State."
Lawrence: "I would say most of the Florida State guys, they're trying to get me there and things like that, telling me I could start immediately, things like that."
Ferns: "It hasn't been a lot of talk about recruiting, it's mainly about just having fun this week. It hasn't been a lot of guys being like, 'Hey, come to this school.' The biggest one was the first day at dinner, a guy goes, 'Come to Wisconsin.'"
Robertson: "I would say the Georgia kids. Or Florida State kids. Janarius and Josh Brown. Because they're always on me. When I'm around Georgia kids, they're always on me, 'Take a visit!' and stuff like that."
Nauta: "Probably everybody that has nothing to do with my top three because they all like to give me their opinions and where they think I should go."
Pass: "The best recruiter is probably Julian Rochester. He's recruiting everybody to go to Georgia. All the Georgia targets, he's getting in their head."
Question: Which college that you've visited has the best facilities on campus?
Most Common: Tennessee
Second Place: Alabama
Ferns: "Probably be Georgia. When I was there, they said Alabama is even better. If that's the case, I'm assuming Alabama is probably nice."
Robinson: "I'd say either Alabama or Tennessee. I like the weight rooms, the indoor facility, things like that."
Lawrence: "I'd say Alabama is the best facility I've been to. The weight room and the player's lounge and all the film rooms, it was just all nice."
Rivals100 WR Binjimen Victor: "Tennessee. It's huge and then the stadium is huge. I just like their places."
Robertson: "Alabama. Well they have a big weight room and it's connected to the indoor and nutrition and stuff like that."
Nauta: "Baylor. I've never seen a locker room like that before. Their whole campus is beautiful, their stadium is brand new, and they're still making updates as we speak."
Pass: "Ohio State. One thing I liked was their indoor, it's built in, like as soon as you walk through a door, you're at a basketball court. So that was one thing about it that I liked."
Question: Donald Trump or Hillary Clinton?
Most Common: Hilary Clinton
Second Place: Donald Trump
Robinson: "That's hard, I don't even know. I say Hillary Clinton. Everybody always says something bad about Trump. I don't know, but they say he keeps it real, one-hundred. They say he says things people don't want to hear."
Robertson: "Hilary Clinton. I don't know, I think she's better. I think she'd run the country better because she's a lady; her husband and stuff, I think her learning from him."
Nauta: "Trump. He's a guy that just gets it done and obviously he's been successful with making money and I think that's what we need in our country right now."
Callaway: Hillary. "I like new things and we've never had a woman in the Office."
Lawrence: "For president? I don't pay attention to that much. Popular name, I guess, Donald."
Ferns: "I mean, if I had to go, it'd probably be Trump."
Jordan: Bernie Sanders.
Mack: Ben Carson.
Question: What's your prediction for the National Championship Game?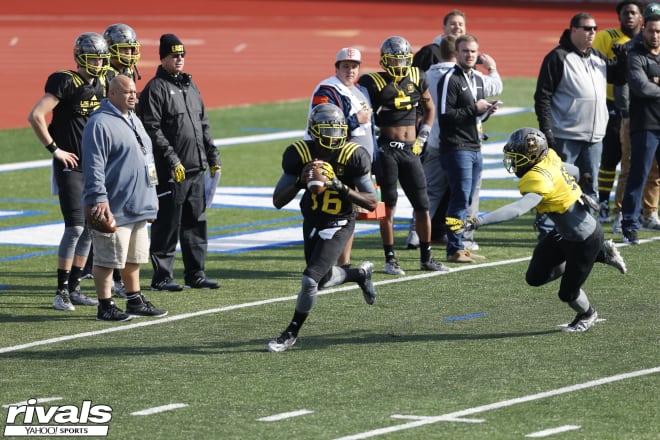 Farniok: "I think it's going to be Clemson. They've got some dudes, and so does Alabama. I think it's just going to be whoever wins the line of scrimmage at that game."
Lawrence: "Clemson, it's going to be a tough game. Probably win by a couple of points or a touchdown, I'd say a pretty high scoring game, too. 37-30, something like that."
Victor: "Alabama wins by six."
Mack: "It's probably going to be 'Bama, but I just want to see a game, really. I don't care who wins. It would be nice to see Clemson win."
Robinson: "I've got Clemson. I don't really see any flaws that they have."
Ferns: "Alabama wins a lot, so I'm taking Clemson."
Robertson: "I got Alabama winning by 21, by three touchdowns."
Nauta: "Alabama by two touchdowns."
Pass: "Clemson. I'm just pulling for Deshaun Watson."