Army All-American Bowl Tour starts in Brooklyn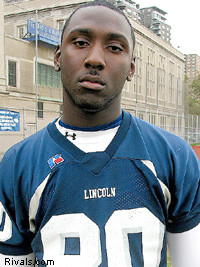 Brooklyn (N.Y.) Lincoln defensive end
Ishaq Williams
knows a little something about the U.S. Army All-American Bowl. Two former Lincoln standouts, wide receiver
Nyan Boateng
and tight end
Lansford Watson
, took part in the game to create a bit of tradition at the school.
On Thursday, Williams achieved a dream of sorts, receiving his U.S. Army jersey in front of classmates, teammates, friends and family.
"It's always been a goal of mine," said the 6-foot-6, 220-pounder. "I have known about the game for a long time because of Nyan and Lansford and my coach who sent both of them to play in the game, so I always wanted to play in it. I honestly wanted to play in either of the big games, but when the Army game came calling, that was my first choice. There's so much tradition and it's such a prestigious game with so many great players having participated that I wanted to be a part of that."
When Williams was told through his head coach, Shawn O'Connor, he was surprised.
"I was very excited, I didn't expect it," he said. "I at least didn't think it would happen so soon because I kind of came on the radar a little later than others. It took me by surprise. But even though it's such a great honor, I try not to think about it too much because I want to focus on my team, my season, school and my family. I don't think it has hit me yet though, how big an honor this is, because it hasn't set in yet. I think it will maybe in a few days or even after the game itself. I know I was nervous up there accepting the jersey though."
O'Connor thinks Williams is a great choice for the U.S. Army All-American Bowl for many reasons.
"He is a great fit because he has all the attributes the game looks for," said O'Connor. "He has great personal strength, good discipline, great character and he has shown leadership and courage on and off the field. Certain guys fit into certain all-star games but you can't find a better fit than Ishaq and this game. He's very humble and quiet and lets his play do the talking. He didn't even want me giving him recruiting letters and offers in front of his teammates because he didn't want it to be flaunted. A newspaper did an article on him this past year and called him 'Humble Giant' which I think is fitting."
As far as recruiting goes, Williams is also trying not to focus too much on it but has discovered he can't avoid it forever, especially as a January enrollee at the school of his choice. As a result, he is trying to narrow down his list of schools and schedule some official visits.
"I have three schools on there for sure and then after that I'm not sure," he said. "I talked about it with my family and coach, and
Alabama
,
Notre Dame
and
Penn State
are in there no doubt. After that it's still open. I'm hoping to take official visits to some schools but it will be tough, especially if we go as far as I want us to go in the playoffs. I've been to all three of those schools and really learned a lot about them, and feel comfortable with them so that's why they stand out."
His future position also is unknown. Alabama and Notre Dame want him as a linebacker while Penn State said he could play defensive end or tight end. But which does he prefer?
"Whichever one gets me on the field," he said. "Honestly I don't care either way, I just want to play. A lot of people assume I prefer defense but I like playing offense as well so it doesn't matter. I'll do the best I can at whatever position I get a chance to play."
O'Connor feels that Williams is a better fit on defense even though he could do either.
"He's a great tight end and a vicious, aggressive blocker, but you can tell at least to me he's a better fit on defense as a defensive end or outside linebacker," he said. "I just think his aggressive nature and how physical he plays is a better fit for the defensive side of the ball. I'm pretty sure you'll end up seeing him on defense."
Other schools rumored to still be in the mix include
USC
,
Miami
,
Rutgers
and
Maryland
. Williams hopes to come up with his final five soon.
"Time is getting short," he said. "So I know I need to start figuring some things out, but again my main focus is on school and family."
And when it comes to family, it has been a hard year for the star from Brooklyn. While being selected to the Army game and receiving scholarship offers from major programs across the country has been exciting, the loss of his younger brother, Emmanuel, has put things into perspective.
"I'm dedicating my season to him and of course I'll be thinking of him when I'm in San Antonio," Williams said of his 15-year-old brother, who was fatally shot last April. "I carry his jersey to every game and I will be bringing his jersey to the Army Bowl as well. It's his junior varsity jersey and it pretty much goes wherever I go as far as football."
O'Connor has been amazed by Williams' inner strength when dealing with the tragedy.
"You know he took the SAT the day after his brother's funeral?" said O'Connor. "And he qualified. He wanted to do it so I guess he just put it out of his mind and focused and got it done. The day after he buries his best friend in the world, he is able to focus enough to get something done that is important for his family and his future. It comes from his up-bringing. He has been raised well and is a very strong kid."
Lieutenant General Benjamin C. Freakley, who presented Williams with his jersey, also is impressed.
"Overcoming his brother's murder and such a tragic event in his life while continuing to be a good student, a great leader to his teammates and showing such inner strength working through adversity, Ishaq represents what we respect so much," said Freakley. "He's a great representative of his family, his school and his community."
As his coach and General Freakley stated, Williams is the perfect fit for the Army Bowl. For the talented star from Lincoln, it's all about pride.
"There is a great sense of pride I have being selected to this game and receiving my jersey," he said. "I want to make my school, family and friends proud, and that's my goal come January."
The U.S. Army All American Bowl is in its 11th year and will be played Saturday, Jan. 8, 2011 at the Alamodome in San Antonio, Texas, and televised by NBC.
[rl]