AP Top 25: Impact players that should shape the CFB Playoff picture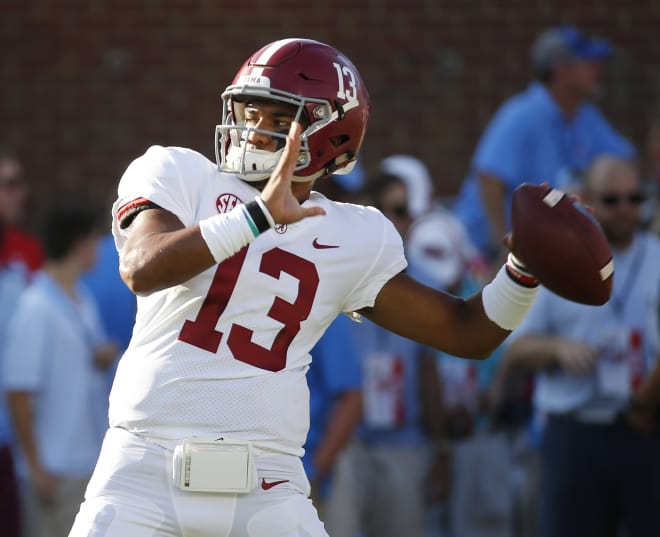 1. ALABAMA CRIMSON TIDE
Impact player: Tua Tagovailoa
Why he is significant: "Alabama is off to an incredible start on both sides of the football averaging 56.6 points per game on offense and allowing just 9.3 on defense. The continued high-level play of sophomore quarterback Tua Tagovailoa propels this team no question. Through three games, Tagovailoa is 36 of 50 passing (72 percent) for 646 yards with eight touchdowns and zero interceptions. Tagovailoa's go-to receiver is Jerry Jeudy, another sophomore sensation that has caught six touchdowns already." - Kyle Henderson, BamaInsider.com
How he got there: Alabama capitalized on Tagovailoa's visit to the Tuscaloosa campus during the offseason before his senior season. During that same trip he took a closer look at Auburn and Ole Miss but UCLA and USC were also in contention. The Trojans were really hoping to end up with Tagovailoa because he called USC his "dream school" earlier in his recruitment.

2. GEORGIA BULLDOGS
Impact player: Mecole Hardman
Why he is significant: "Obviously, excellent quarterback play is going to be key for any team with playoff aspirations and that's certainly true at Georgia. However, in Athens, that player might be wide receiver Mecole Hardman. The former five-star is living up to his high school billing as he leads the Bulldogs with 10 catches for 188 yards and against Middle Tennessee returned a punt 70 yards for a score. He tops Georgia with four touchdowns (three receiving, one on the punt return). Basically, Hardman is a threat to score anytime he touches the football and that's the kind of weapon the Bulldogs will need if they want to make it back to the playoffs for the second straight year." - Anthony Dasher, UGASports.com
How he got there: Hardman's recruitment generated plenty of headlines. He took dozens of unofficial visits and even announced he would be making a silent commitment months before National Signing Day. He eventually backed away from those plans but his recruitment was still full of excitement. Georgia seemed like the favorite for a long time but never took an official visit to the Athens campus. Miami, Michigan and Ohio State got official visits but Hardman named Alabama his leader a few weeks before National Signing Day. Hardman chose the Dawgs over Alabama and Ohio State.

3. CLEMSON TIGERS
Impact player: Kelly Bryant
Why he is significant: "I'm not sold this team's playoff aspirations hinge on one player; the Tigers got there last year with defensive tackle Dexter Lawrence playing on one foot and offensive limitations. They have even greater depth this season.
"But Clemson's ceiling will be set by how the quarterback situation plays out. Incumbent Kelly Bryant helped guide the Tigers to the semifinals last season. Yet everyone accepts the team needs more explosive passing plays and improved efficiency in the screen game to maximize the surrounding talent.
"Freshmen phenom Trevor Lawrence can make all the throws and open up the offense. But as demonstrated at Texas A&M, Bryant's poise, know-how and running abilities sometimes give Clemson the better chance to win, too.
"Both will continue to play. But having quarterbacks with separate skill sets has prevented Clemson from establishing much of an offensive identity and fueled some inconsistent showings through three games.
"Their situation fuels some apt comparisons to Alabama's situation, and the team will benefit once clarity on defined roles eventually is gained."
How he got there: There was very little intrigue in Bryant's recruitment. The South Carolina native is from very close to the Clemson campus and always seemed like a shoe-in for the Tigers. He pretty lengthy offer sheet featuring all of the regional schools and a few SEC schools but he decided to commit to Clemson in April on his junior year.

4. OHIO STATE BUCKEYES
Impact player: Dwayne Haskins
Why he is significant: "This team obviously is going to go as far as Dwayne Haskins can take them. Sure, you have players like Nick Bosa on the defensive line (who left the game injured and his status moving forward is unknown) and Jordan Fuller in the secondary who has proven to be about as valuable as they come to the defensive effort, but it will be Haskins who can carry this team to or over the finish line. Ohio State probably won't develop into having a stifling defense this year which means the offense is going to have to outscore opponents and when Haskins is on, that really is not a question as he can spread the ball around the field to a group of talented playmakers. He had his first real challenge of the season last night against TCU and ultimately (aided by 14 defensive points) passed the test, though his supporting cast made it more difficult than it needed to be with slow snaps from first-year center Michael Jordan and drops by usually sure-handed Austin Mack. This test was good for Haskins and the Buckeyes are in a good position to make a run through a Big Ten that showed a lot of battle scars over the weekend." - Kevin Noon, BuckeyeGrove.com
How he got there: Haskins' recruitment took off after winning the QB MVP award at the 2014 Rivals Camp in Washington D.C. He eventually committed to Maryland in May prior to his senior year but the coaching change in College Park caused him to look around. Haskins ended up committing to the Buckeyes, his childhood favorite, in January prior to National Signing Day.

5. OKLAHOMA SOONERS
Impact player: Kyler Murray
Why he is significant: "The quarterback drives the bus at Oklahoma and this year is no different. 'You go, we go' in a sense. And in a league like the Big 12 you're going to be required to score points in abundance. Through three games, Murray has equaled what Baker Mayfield accomplished in 2017. Of course, the Heisman Trophy isn't going to be handed to Oakland A's future centerfielder but it's hard not to compare the numbers. They are eerily similar. Mayfield was responsible for 1,033 yards and 10 touchdowns through three games a season ago. This year Murray has produced 1,030 yards and 10 touchdowns. Consistency like that at quarterback is a luxury most programs would love to have. It appears Lincoln Riley has done it again." - Eddie Radosevich, SoonerScoop.com
How he got there: Murray committed to Texas A&M, his father's alma mater, in May prior to his senior year over schools like Oregon, Texas, Auburn, Florida and a few others. He saw how well Johnny Manziel did in the Aggies' offense and thought he could replicate it despite a quarterback room that already featured highly-touted prospects like Kenny Hill and Kyle Allen. Murray only lasted one season at Texas A&M before announcing he would transfer to Oklahoma.

6. LSU TIGERS
Impact player: Greedy Williams
Why he is significant: "Through three games, LSU has knocked off a pair of top-10 opponents. The Tigers demanded national respect, and thus far, they deserve it. Cole Tracy has been a hero on special teams. Joe Burrow and Nick Brossette have provided stability to on offense, while there seems to be no shortage of playmakers on the Tigers' defense, most notably Devin White, Greedy Williams and budding sophomore star safety Grant Delpit. In beating Miami and Auburn away from Death Valley, LSU showed it can play up to the moment and the team has embraced being an underdog. The road only gets tougher with a game at Florida and at home to Georgia, Mississippi State and Alabama ahead. If these Tigers are going to navigate through this schedule successfully, it's easy to look at Burrow to lead the way. However, LSU's defense and the ability to force turnovers, dominate field position and set the offense up with easy opportunities is easily the biggest key moving forward." - Sam Spiegelman, TigerDetails.com
How he got there: Williams always seemed destined to end up at LSU. He took a lot of unofficial visits to the Baton Rouge campus before committing to the Tigers at the end of May before his senior year. Oklahoma State tried to get Williams to flip his commitment by signing his brother, Rodarius Williams.

7. STANFORD CARDINAL
Impact player: K.J. Costello
Why he is significant: "With defenses designing extreme game plans to stop last year's Heisman runner-up, Bryce Love, it will be up to quarterback K.J. Costello to take on an impact role for Stanford to reach the playoff. Costello must become more efficient to build drives with the pass first, which is contrary to head coach David Shaw's preferred approach. Stanford has plenty of talent at tight end and receiver to make it work, but the hurdle is for the staff to find balance in a way they have not had to before. Costello has talent, but it's far from definitively proven that he can play at a high level for an entire season." – Jacob Rayburn, CardinalSportsReport.com
How he got there: Costello's recruitment wasn't full of twists and turns. He entertained a few schools but Stanford was always going to be the choice for Costello once the Cardinal offered. Costello committed to the program in March of his junior year.

8. NOTRE DAME FIGHTING IRISH
Impact player: Brandon Wimbush
Why he is significant: "There is little doubt that senior quarterback Brandon Wimbush is the key to Notre Dame getting on track offensively and making a run at the College Football Playoffs. When Wimbush is on his game Notre Dame has proven it is hard to defend. When he isn't on or turns the ball over the offense sputters and the Irish fail to even pull away away from MAC opponents." - Bryan Driskell, BlueGoldIllustrated.com
How he got there: Wimbush committed to Penn State in May before his senior year but Stanford and Notre Dame drew his gaze. He ended up taking a visit to Stanford shortly after his commitment to the Nittany Lions but Notre Dame was still picking up momentum. Wimbush's official visit to South Bend took place in early October of his senior year and he flipped his commitment a few days later.

9. AUBURN TIGERS
Impact player: Jarrett Stidham
Why he is significant: "For Auburn, Jarrett Stidham must be better. The junior was sensational last season as the Tigers picked up the pieces after a loss at LSU and reeled off five consecutive wins. That surge catapulted Auburn into the SEC Championship. Can that happen again? Not with Stidham playing like this. He fumbled three times against Washington during Week 1 and was intercepted twice during his team's 22-21 loss to LSU Saturday. Everything Gus Malzahn wants to accomplish on offense begins with Stidham. Right now, Stidham is more of a hindrance than an enabler." - Jay Tate, AuburnSports.com
How he got there: After a long-standing commitment to Texas Tech, Stidham decommitted from the Red Raiders in December of his senior year and signed with Baylor over Oregon. Once the scandal that resulted the coaching change at Baylor hit, Stidham decided to transfer to junior college Waco (Texas) McLennan C.C. After one season of junior college football, Stidham signed with Auburn over schools like Texas A&M, LSU and Florida.

10. WASHINGTON HUSKIES
Impact player: Jake Browning
Why he is significant: "If Washington is going to get back to the CFB Playoff it has to start with senior QB Jake Browning. Now by picking Browning that doesn't mean he has to return to his sophomore form from 2016, the last time UW earned a playoff berth, but he absolutely cannot be an L-clincher. More than a game manager who leans on fellow senior, running back Myles Gaskin, Browning showed the grit that fuels his game. It's also the mentality that causes Browning to make errant throws at the worst times.
"Defensively it's a collective effort and UW has proven in the past in can get the job done even with younger players and backups. The same can't be said for the offense, where the engine beats to Browning's rhythm for better or worse." – Lars Hanson, TheDawgReport.com
How he got there: Browning always held Washington in high esteem and the Huskies did a good job closing on his commitment despite a late push from Alabama. Oklahoma State, Utah, Boise State, Colorado and California were just a few of the other schools near the top of his list. Browning announced his commitment in March of his junior year.