And then there were three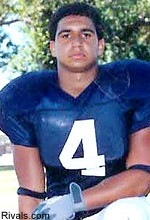 It is coming down to the wire for four-star safety
Shawn Oatis
(6-2, 205, 4.6) from Chino, Calif. Oatis is one of the most sought after player in Southern California has narrowed down his school choices to three.
Oatis has taken already taken two visits to Notre Dame and Ohio State. His final visit will be to UCLA and he will be on hand when the Bruins take on the Stanford Cardinal this Saturday at the Rose Bowl.
The competition for Oatis' services will be intense indeed. Both Notre Dame and Ohio State rolled out the red carpet for Oatis and a great impression was made.
"Ohio State was awesome," Oatis said. "I did the same stuff that I did when I visited Notre Dame."
"I met with councilors and academic people as well as coaches and players," Oatis said. "Ohio State makes it a tough decision."
"Notre Dame was great too," Oatis said. "I was able to see a different part of the country."
"I met with Coach (Ty) Willingham and Notre Dame's academic people," Oatis said. "Both places are great, but the weather is a little different."
"Both trips were on par with one another," Oatis said. "I will be taking an official visit to UCLA this coming weekend (October 29th)."
"Notre Dame, Ohio State and UCLA have separated from the pack," Oatis said. "I may go with my gut instincts or I may even flip a coin."
"I don't think I can go wrong with any of my final three schools," Oatis said. "I hope to have decision within a month."
"I'm glad all my visits were done close together," Oatis said. "I will be able to compare the three schools while my memory is still fresh."
Known as a hard-hitting safety, Oatis has racked up 40 tackles and two picks so far in 2004. Until last Friday he led his CIF division in scoring.
Though Oatis is a standout on both sides of the ball, he is projected as a defender on the D-I level.
Rivals.com ranks Oatis as the nation's six safety prospect for the class of 2005 and was selected to Rivals.com's preseason California Top 100 team rated as the Golden State's number 22 prospect at any position.