Alloway impressed by UCLA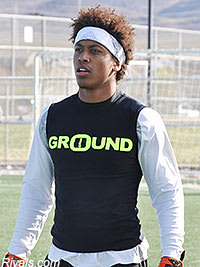 Damian Alloway
stopped over at
UCLA
spring practice on Saturday and it was the first time he had a chance to meet coach Jim Mora and wide receivers coach Eric Yarber.
The four-star athlete from Fontana (Calif.) Summit had an opportunity to hear from them, see how they would use him in the offense and the Bruins definitely interest him at this point.
Alloway has UCLA and
California
as his two favorites and he's still waiting on offers from USC, Oregon and Notre Dame.
"I went up to spring ball and it was cool," Alloway said. "I got to talk to coach Mora and I got to meet all the coaches, coach Mora and coach Yarber, and I had good conversations with all of them.
"That's the first time I met coach Mora and Coach Yarber in person. I met coach (Demetrice) Martin before but I didn't meet any of the other coaches."
Alloway liked what he heard from the coaches, essentially that the Bruins need shifty guys like him in the slot and that they're going to make a more concerted effort to recruit him harder.
"Pretty much what they were saying was that UCLA has everything they need except a couple speedy, quick slot guys exactly like me," Alloway said. "That's what they were preaching to me. They said I'm the kind of guy they really need.
"They were telling me some really good things that I needed to hear so I could get up there again soon."
The Fontana Summit standout plans to visit Cal and USC soon. Return trips to UCLA are also expected. Recently, Ground Zero 7on7 teammates Lokeni Toailoa and Demetric Felton committed to the Bruins and Alloway said that might play a factor in his own decision.
"I'm going to keep going up to the UCLA practices so I can keep building a relationship with them in person more than on the phone," Alloway said.
"That's going to play a part, too, I want to go play with my friends. The other part is that it's going to be my decision. Them going there is also a big help for UCLA."