Alabama offer intrigues Daniels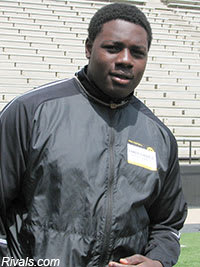 The recruitment of Warren (Ohio) Harding offensive center
James Daniels
is steaming toward a conclusion, but a recent offer from Alabama has caught the attention of the nation's No. 3 ranked center.
"I never really talked to them before, but Wednesday Coach (Bobby) Williams came up to the school and my coach said he needed to check out me," Daniels said.
Alabama did not waste time with Daniels, notifying the Warren Harding coach of their offer the day after Williams was in the school. For Daniels it is offer No. 18, but being from Alabama he is taking a close look.
"I was surprised because that is one of the biggest schools in the country," Daniels said. "It's great to have all these big schools recruiting me."
Daniels is still in the process of evaluating the Alabama offer as it relates to his recruitment, but is likely to visit Tuscaloosa in the near future.
"I have a call with Coach (Nick) Saban tomorrow, so I will probably set up when I am going to go down there then," Daniels said.
That visit should happen within the month because Daniels is eyeing a late June timetable for rendering his college decision.
Visits to Auburn, Iowa, Ohio State and Wisconsin were taken this spring, and each of those programs are in the thick of the chase for Daniels.
"Pretty much all of the schools I visited this spring, I'm feeling good about all four of them," Daniels said. "I have a top group, but it's really not finalized yet. I still have to visit more schools. I am going to visit Alabama, I am going to visit Michigan State and I'm not sure who else I will visit."
The 6-foot-4, 275-pound Daniels ranks as the No. 3 offensive center in the nation and the No. 15 prospect in Ohio's 2015 class.