Alabama claims yet another recruiting title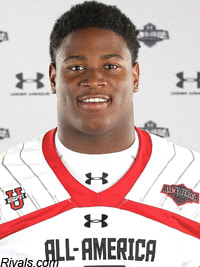 "On defense you have to like what they did at linebacker and along the defensive line especially," Farrell said.
Howard is rated the nation's top tight end by Rivals.com and a spectacular athlete.
"O.J. Howard is exactly the type of guy that Alabama can feature in their offense," Rivals.com Southeast analyst Woody Wommack said. "With so much attention being paid to the Tide's running backs, he's going to be lined up in one-on-one situations in the passing game, and that's exactly where he flourishes. Players like him don't come along very often at the tight end position and for him to land at Alabama is just another example of the rich getting richer."
The path for Reuben Foster to Tuscaloosa was a winding one.
"It seemed like Reuben Foster was destined to end up at Auburn, especially after his highly publicized flip last year," Wommack said. "But the staff at Alabama never gave up, and it paid off in the end.
"Foster's talent on the field has never been questioned. His physical attributes are pretty much unmatched in this year's class. The one question with him is how he'll adjust to the Alabama way of doing things, but I think being in a structured environment will be the best way to get the most of Foster's tremendous potential."
Farrell is especially impressed with Allen, whose highlight film rivals any player in the country.
"Jonathan Allen is a beast, plain and simple," Farrell said. "He can play middle linebacker, jack linebacker or defensive end in Alabama's system and has the quickness, strength and most importantly the motor to be a can't-miss kid who can play early. His film is among the best I have seen in this class and he backs it up in person."
And it seems the Crimson Tide are getting even stronger. Alabama's final point total in the new Rivals.com rankings formula would surpass each of its previous recruiting titles from 2008 to 2012 if the new formula were applied. Alabama did not win the 2010 recruiting title.

[rl]