Aiono tops initial JUCO rankings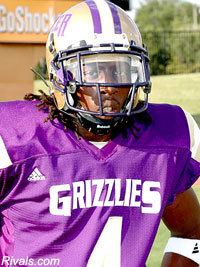 The calls still come into the football office at Snow College on a regular basis.
Badger coach Steve Coburn gives the schools the bad news.
"Sorry, but he's going to Utah," Coburn tells the disappointed coach.
"You bet he is the best in the country," Coburn said. "He's all that. He's very strong and explosive. He plays the end position for us, which means that his responsibility is to set the edge of the defense to get the ball turned back inside to his help. He does that very well because of his size, strength and explosiveness.
"He has great passion for the game. He pursues the ball even when it's away from him. Those strengths are real strong points for us, as well as him being a leader of the linemen."
Aiono signed with Utah out of Murray High School in February of 2007 but did not qualify academically and went to Snow. He had an outstanding freshman season at Ephraim, and has continued to dominate this season.
In the season opener against Air Force, he was double- and sometimes triple-teamed, but that didn't stop him from flying all over the football field and making plays from sideline to sideline. It's the same thing that has happened in all of Snow's other games and sparked by his great play, the Badgers are right in the thick of the national title race again.
"He's better now than he was when we got him out of high school, and he was special even then," Coburn said.
Despite the repeated pressure to look around, Aiono maintains he's steadfast in his love for Utah.
"I'm not going to let some other school try to swoop in and steal me away," he said. "To me that wouldn't really affect my decision at all because Salt Lake City is the town I grew up in and the place I want to play. I'm solid Utah no matter what."
NOT FAR BEHIND
Playing eight games last season after returning from his Mormon Mission in the Philippines, Fangupo had a modest 21 tackles and two sacks in 2007. But with scholarship offers from Tennessee, Oregon, Utah, Arizona and Arizona State already on the table, college coaches flooded Mt. SAC in May to witness the raw potential Fangupo displayed.
"From a physical standpoint, he has all the tools to be a great player," Rivals.com recruiting analyst Brad Hoiseth of JCGridiron.com said. "He's like getting a 7-foot center in basketball. He has the tools that you can't teach. With the right coaches, he'll play in the NFL."
He's already committed to Mississippi State after signing with Southern Miss out of Pahokee, Fla., in 2007. As a high school senior he helped Pahokee to a Florida Class 2B State Championship. Academic issues forced him to Itawamba where he has blossomed into one of the most dominating JUCO players in the country.
"Pernell McPhee is one of the best pure pass rushers to come through the Mississippi JUCO ranks in the last decade," Rivals.com analyst Lanny Mixon said. "He has a great combination of size and speed, and there's no question he is explosive off the line in passing situations. He's got unlimited potential."
At 6-4 and 325-pounds, Morgan moves like a dancing bear. He's quick around the end on pulls and he's amazing on trap blocks on the inside. Morgan signed with Baylor out of high school in 2007, but now he's heading to Oklahoma State after turning down offers from TCU, Tulsa, Baylor, Kansas, Kansas State and Ole Miss.
Crim started as a freshman for the Grizzlies and he snagged three interceptions in 2007 and this season, he's often been tasked with facing off against the other team's top target at receiver.
"His game is the most ahead of all of the defensive backs now," Butler coach Troy Morrell said. "He's got great size, can really turn and run with the best, but what I love most about him is his instincts. This kid knows when the ball is coming and knows how to make big plays at the right time that you just can't teach."
[rl]