ACC Spotlight: Five QB battles that will be fought during the spring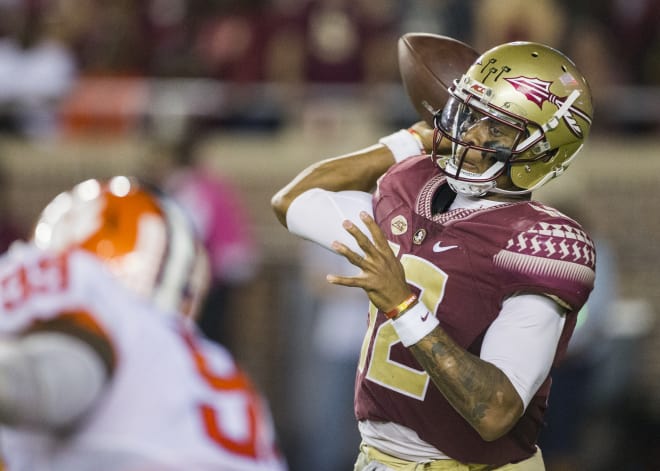 Mark Pszonak contributed to this report.
Spring football has started for some is on the near horizon for many others so this week we will take a look at some key position battles in each Power Five conference. Today we look at the ACC where many quarterback battles are set to take place.
CLEMSON: Kelly Bryant vs. Hunter Johnson vs. Trevor Lawrence
The skinny: Coming off of a 12-2 season, and returning Bryant at quarterback, most would assume there wouldn't be any competition at the position this off-season. However, with the way the Tigers have recruited quarterbacks over the last couple of years, that is not the case. Bryant is still the frontrunner to hold onto his job, but Johnson now has a full grasp of the offense, and Lawrence has impressed everyone during his first three months on campus. If nothing else, the competition should make Bryant better as the Tigers look primed to make another run to the playoffs in 2018.
Farrell's take: Many feel there isn't much drama here as Bryant is the man and he led the team to the playoff last year. He has the experience and the apparent backing of Dabo Swinney. However, there are questions about his accuracy and Johnson and Lawrence are so talented and much more accurate passers. I doubt anyone but Bryant leaves the spring with the starting job, but keep an eye on this one into the fall.

FLORIDA STATE: James Blackman vs. Deondre Francois
The skinny: With Francois going down with an injury early during the 2017 season, Blackman stepped in to lead the Seminoles. He was 7-5, including 3-5 in the ACC with 19 TDs and 11 INTs. So while Francois is now fully healthy, new coach Willie Taggart has opened up the competition at every position, including quarterback. Blackman improved as the season progressed in 2017, and if he can add some size to his thin frame, this competition could last until the summer.

One should also not forget that Francois passed for 3,350 yards and 20 touchdowns during the 2016 season and went 10-3, 5-3 in the ACC, so while he is likely the frontrunner, it does not seem like a foregone conclusion that he will be the starter when the Seminoles host Virginia Tech on Sept 3.
Farrell's take: I didn't include Bailey Hockman into this battle because this appears to be down to the man who took the reins last year in Blackman and the former starter in Francois. Francois, to me, has the better skill set and makes better decisions so I expect him to take this job back pretty easily if he's healthy. However, with a new head coach, who knows what he wants out of his quarterback in the FSU offense and which one will pick up his system quicker.

LOUISVILLE: Jawon Pass vs. Malik Cunningham
The skinny: Replacing Lamar Jackson will be one of the tougher jobs in the country this off-season. The top candidate to try and accomplish this tall task is Pass, who looked impressive as Jackson's back-up last season. While he completed almost 70 percent of his passes for 238 yards and two touchdowns and rushed for 62 yards and one touchdown, this success came from only 33 attempts and in low-stress situations. So with Pass still unproven, Cunningham will also get a long look this spring, as he brings more athleticism to the table. Either way, expectations at Louisville should be tempered, as the winner of this job will have some huge shoes to fill.
Farrell's take: Pass is a big and strong kid who has some game experience and was the backup last season but Cunningham is a better athlete and more mobile so it's unclear which one Bobby Petrino will go with. These two appear to be the clear leaders to take over for Jackson and you have to lean towards the experience of Pass for now, but watch out for Cunningham as he's a talented kid.

MIAMI: Malik Rosier vs. N'Kosi Perry
The skinny: While Miami had the turnaround season that many Cane fans were waiting for in 2017, questions still surrounded the passing game. This is why Perry enters the spring as a viable threat to dethrone Rosier as the starter in 2018.

Rosier led Miami to a 10-0 start, but during a season-ending three-game losing streak, he completed just 45 percent of his passes with three TDs and five interceptions. He finished the year completing 54 percent of his passes with 14 interceptions. Despite the late-season swoon, Rosier enters the spring as the starter for the Canes, so Perry, plus Jarren Williams, who enrolled for the spring semester, and Cade Weldon, who is a redshirt freshman, will need to work overtime to take the job. Don't look for this battle to be settled in the summer, as an impressive spring by any of Rosier's competition will just raise more questions heading into August.
Farrell's take: I'd be very surprised if Weldon or Williams enter this battle, so it seems to be a two-player race for the starting job with Rosier having the clear edge. Perry is an exciting kid to watch and was the buzz of last year heading into the season as a true freshman before Rosier won the job. Now he's a bit behind the curve with a lack of experience and with Rosier leading the 'Canes to a very good season. But the interceptions and completion percentage worries are there and if Perry proves to be the more accurate quarterback, this could turn into an interesting battle.
NORTH CAROLINA: Chazz Surratt vs. Nathan Elliott
The skinny: The Tar Heels are coming off of a disappointing 3-9 season, with some of the blame coming from the inconsistent quarterback play. Both Surratt and Elliott return this season, so the question will be if either of the two are able to take their game to the next level. Surratt started the season as the signal caller, but eventually lost his job to Elliott, who only completed 51.4 percent of his passes. This is a big season for coach Larry Fedora and the Tar Heels, but without their quarterback issues resolved, it may be another season full of more questions than answers. Or could an early enrollee, mainly Jace Ruder, come in and take the job as a true freshman?
Farrell's take: Someone needs to step up here in a big way or another awful season will be in the works and Fedora could be in real trouble. I'm not sure which guy will be the starter. I like Surratt's skill set a bit better, but this will be more about hoping each can improve and push each other more than finding that one guy. Keep an eye out for Ruder. I like him a lot although he's behind the eight ball just learning the offense.