ACC missing proven quarterbacks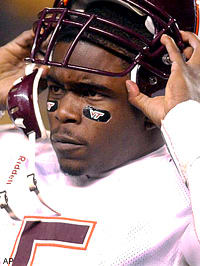 HOT SPRINGS, Va. – Two years ago, the ACC was labeled a quarterback conference and featured Philip Rivers and Matt Schaub. Now, it is difficult to find a team in the league with a proven quarterback and few starting jobs appear safe.
At least four programs and possibly five will be starting rookie signal callers. Florida State and Miami will be among that group.
Bryan Randall, the 2004 ACC Player of the Year, and Darian Durant, arguably the best North Carolina quarterback in school history, are gone. The group of veterans who return are surrounded with doubts.
Preseason All-ACC quarterback Charlie Whitehurst is coming off a disappointing season in which he threw more than twice as many interceptions (17) as touchdowns (7). At this time last year the three-year starter was being touted as a Heisman candidate and many expected him follow in Rivers and Schaubs' footsteps.
"You do lose a little bit of confidence. That is only human," said Whitehurst, recalling his struggles in 2004. "I have a slightly different game than (Rivers or Schaub). I'm a little bit more mobile. But thing that stands out to me about Rivers is that he never makes a bad play or puts his team in a bad position and I have to learn to limit the bad plays."
Georgia Tech junior Reggie Ball most likely feels similarly. Despite starting since his true freshman season, the veteran still lacks the total confidence of Jackets head coach Chan Gailey.
"Reggie has proved he can play very well and very poorly," Gailey said. "He has to show he can be more consistent on a week-to-week basis. I think this year, unlike years past, we have a pretty good upside if things don't go well (with Ball)."
Virginia senior Marques Hagans put up the best stats of any returning quarterback in the league last season, completing over 62 percent of his passes and passing for over 2,000 yards and running for nearly 400 more. Still, Hagans wasn't able to make big plays in the big games, combining to go 38-of-69 for 419 yards with two touchdowns and three interceptions in losses to Florida State, Miami and Virginia Tech.
Duke returns junior Mike Schneider, who will enter his third season as a starter. Wake Forest coach Jim Grobe rotated senior Cory Randolph and sophomore Ben Mauk under center last season and could do the same again. N.C. State senior Jay Davis was benched last season but appears to have regained his grasp on the starting job.
At Florida State and Miami, first-year starters Xavier Lee and Kyle Wright will take over their respective offenses. Junior Marcus Vick will do the same at Virginia Tech after sitting out for a season due to off-the-field problems. Fifth-year senior Matt Baker, who hasn't started game since high school, will replace Durant at UNC.
According to Whitehurst, it would be difficult for the group to pick a worse time to make their moves to the top of the depth charts.
"This conference is very strong defensively," Whitehurst said. "I would not want to be a rookie quarterback in the conference this year. It's tough enough on any quarterback."
The ACC returns some of the nation's top defensive players, including a long line of star linebackers like Florida State's Ernie Sims and Maryland's D'Qwell Jackson. Two of the defensive lineman who made the All-ACC first-team, N.C. State's Mario Williams and Virginia Tech's Darryl Tapp, are also back.
"I'm kind of excited looking around at the offenses," said Georgia Tech linebacker Gerris Wilkerson, a second-team All-ACC pick in 2004. "Durant was at UNC for long. It is definitely something to get excited about."
Still, many of Wilkerson's defensive peers don't share his feelings on the latest crop of ACC quarterbacks.
"I do get a little excited hearing about the inexperienced quarterbacks. But there is nothing more scary out there than the unknown," Tapp said. "Hagans is the only quarterback I really know in the ACC and he is an animal on the field."
Scary unknowns are good descriptions of Lee and Wright. Each were both highly-ranked recruits but Lee has yet to take a college snap and Wright has only seen a little mop-up duty.
Vick was good enough to split playing time with Randall two years ago and Baker will have one of the ACC's top receiving corps and an experienced offensive line surrounding him.
Boston College senior Quinton Porter can also be thrown into that unknown category. He started 10 games and had a productive run in 2003 before redshirting last season.
"It is nice to see a guy like Durant move on but I've got a feeling that a few of the quarterbacks in this league will be household names by the end of the year," Wake Forest coach Jim Grobe said.
The veterans also command some respect too.
"We may not have to face Philip Rivers but we still have to face Hagans and he is a pretty good athlete," Miami defensive end Thomas Carroll said. "Ball and Whitehurst have played like great quarterbacks too."
Opinions seem to differ on how the quarterbacks will fair this fall but it is clear they will be the focus.
"I think the quarterback situations are going to make for a very interesting year in the ACC," Virginia Tech coach Frank Beamer said. "FSU and Miami are operating with new quarterbacks and there are several guys like us who have a player that for the first time can say he is the guy."