A Mother's Perspective: UGA commit John Emery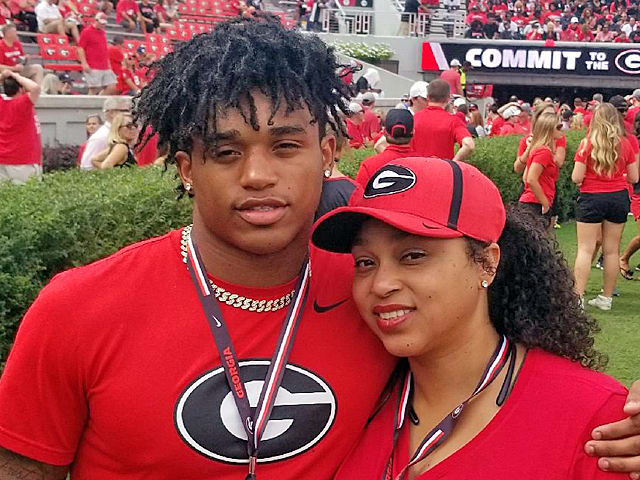 John Emery did not want to play football when he was younger. Nikki Trudeaux had a daughter playing football at the age of nine and she wasn't going to leave her son behind.
What is that saying? Mother's know best. Once again, this mother did.
John started playing football at the age of seven. He immediately was placed in the running back group and, as they say, the rest is history.
The 6-foot, 200 pound senior out of Destrehan (La.) has been a big name in his town since he started playing football, but has become a national recruit over the last 12-18 months. A long list of national powers offered Emery and made a run at him, but over the summer, he committed to the Georgia Bulldogs.
His mother has been with his every step of the way.
"John is not about the spotlight or the fame. He just wants to do what he is supposed to do on and off the field and play ball. He loves football. He is a fan of the game. He is not big on the spotlight that comes with it.
"He is a very private guy. He is really a mother's boy. He is not a party guy, but someone who likes a movie at home and he just wants to be a regular teenage kid. He doesn't want to be all out there, but he likes to keep to himself and just stay more private. All he wants to do is be the best he can be."
The environment in Athens…
"I love the overall environment at Georgia. As a mother, you are always going to worry when your kid goes off about what type of environment they will be in. With Georgia, I know John will be at a good, stable environment around great people.
"The coaching staff at Georgia feels like an extension of the family. It really started with Jonas Jennings and Fernando Velasco. Those guys are great. Those two remind me of an extension of myself. They look out for John, they care about John and they want the best for my child.
"The support staff blew me away, then the coaches did the same. What stood out a lot was how natural it was. It was not a show just trying to get my son there. It was natural and they were all so genuine. There wasn't any rehearsal notes, nothing phony or fake at Georgia and I really liked that.
"I love coach Dell McGee. He is an awesome individual and he and his wife are great people. Coach Smart is so down to earth. Coach Jim Chaney is awesome. They are all just real and they have made big impressions."
"When I am around Kirby Smart, I feel like I am seeing family. He seems like a brother to me. I have three sisters, so I have never had a brother, but when we get together, it seems like we catch up on things like family.
"We jump straight into conversation, we talk about life in general and very little about football. He is such a down to earth guy and so easy to talk to. All I can really say about Kirby is he seems like family."
Watching UGA in a different way…
"Since John is committed to Georgia, I now watch for how he will fit in there. I look to see how coach McGee and coach Chaney work together, how coach Pittman does with the offensive line and things like that. I look at that depth on the offensive line to see who is going to be protecting my baby when he gets there.
"I have anxiety every time John steps on the field and takes a hit, so I look at it all. From the offensive line to quarterback and all of it. I like what Georgia is doing. They are big and young on the offensive line, and with the development to come under Pittman, it is exciting. I am just looking every play to see how I think John fits in."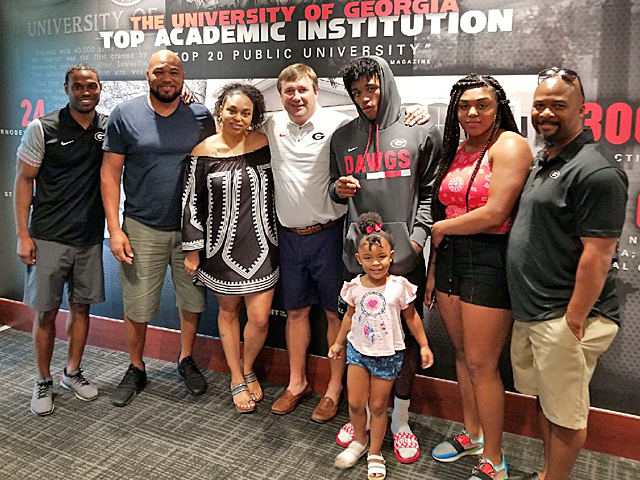 "I get tears and cry when I think about the dedication John puts in daily. He has been humble through this entire process and I could not be prouder. He stands firm on the word of God and he just worked hard to get here.
"To see him evolve, it has been amazing. He is an amazing child and I couldn't be more proud. He has taken a lot of trips, he has looked at a lot of schools and he has found the place he wants to be at. I am so proud of how he wants the best for own life. He didn't do this for me. He did this for him. He is playing football for himself. He loves it. He is good at it. He plays the game for himself. I couldn't be happier about what he is doing and how he is doing it."
— John can sing and beat box
— He is a mother's boy
— John didn't tell his mother about his UGA commitment, Dell McGee did by text message
— Lasagna and crawfish are John's favorite foods
— Two favorite movies are Friday and Haunted House 2