A commit for baseball, Snelling must now consider football future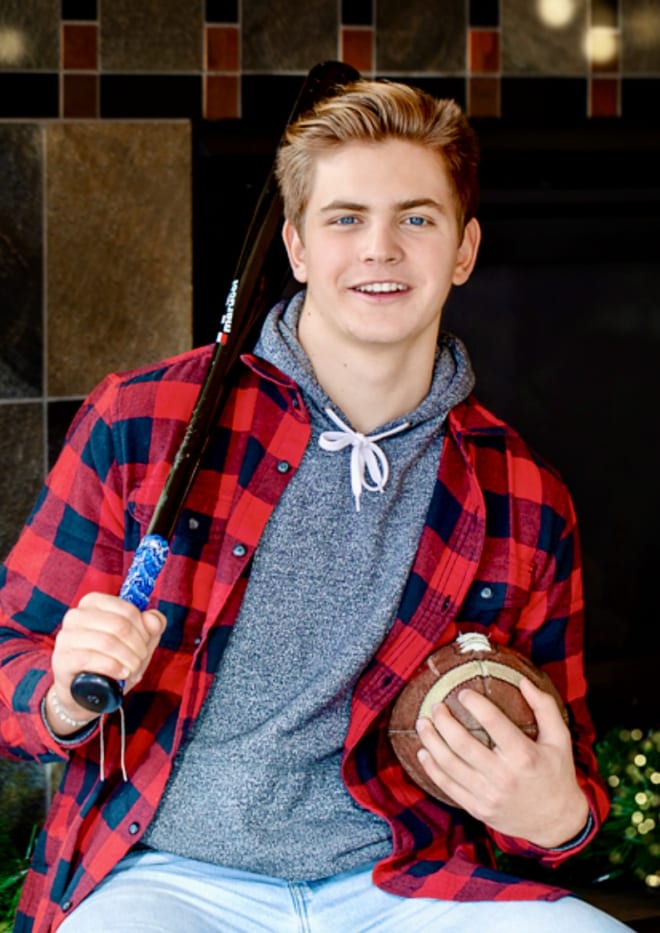 Robby Snelling is in an unusual position for a recruit. The two-sport star at McQueen High in Reno, Nevada, has been committed to Stanford for baseball since before his sophomore year and now has an offer to play football for the Cardinal.
He also has been offered by Oregon, Oregon State, Arizona, Ole Miss, San Diego State and UNLV for both sports. The football attention started after his excellent sophomore season (his first on varsity) and now he's trying to navigate the process of being a football recruit who needs to consider both baseball and football programs at each school.
Stanford is undoubtedly in a strong position with Snelling because the baseball program has already impressed him.
The Cardinal football staff offered July 11 and Robby and his father, Jim, were were on the call. Jim is also the head football coach at McQueen.
"It was very exciting. It was awesome for my dad and I to hear," Robby said.
Snelling had been in contact with linebacker coaches Lance Anderson and Eric Sanders for a couple months at that point. He said Stanford's pitching coach/recruiting coordinator Thomas Eager helped get the ball rolling with that relationship.
Snelling updated Eager when each new football offer came in and it soon became clear that Snelling was going to have plenty of options where he could play both, which he is determined to do.
According to Snelling, Eager went to the football offices to encourage them to take a close look at the Nevadan.
Stanford's coaches told Snelling they wanted to watch him early in his junior season and then decide on an offer, but the uncertainty of when football will be played because of COVID-19 put the pin in that plan.
In his only varsity season, Maxpreps shows that in nine games Snelling had 79 total tackles, 11.5 TFL, 4.5 sacks, four hurries, two interceptions, three pass deflections and two forced fumbles.
"I like hitting kids, so that helped a little bit," he laughed. "I just flew around and did my job. I showed out in a couple games and I started to get attention for it. My main goal at that point was to see how far it could take me."
Snelling emerged as a legitimate college baseball pitcher much earlier. Growing up, Snelling's first love was football but he was tall for his age and was still growing into his body.
"When I started playing baseball I thought, 'Wow, I'm pretty good at this, too.'"
His development on the mound moved fast and Eager jumped in with an offer during Snelling's freshman year after he excelled at the Area Code Baseball Games. The school seemed like a natural fit, and not just to Snelling.
His travel baseball team is NorCal and head coach Rob Bruno is familiar with what a future Stanford student-athlete looks like. Brock Jones played for that club and was a senior in high school when Snelling was a freshman.
"As soon as I got there he was like, 'I think you'd be a good Stanford guy'", Snelling said.
Bruno compared Snelling to Jones because of the physicality they bring to both sports. He called Eager to tip him off that he should look at Snelling and Eager was the first college coach to heavily recruit him.
But he wasn't the first coach to keep tabs on him. Snelling's hitting coach, Vince Garcia, saw Snelling's potential as an eighth grader and reached out to one of his former high school players, TCU pitching coach Kirk Saarloos.
Saarloos fits into a pattern that Snelling has established at a young age: Coaches who work with him feel confident recommending him to other coaches.
"It does feel good," Snelling said. "It really does. I'm very fortunate with the people I've come across."
Snelling's first football offer was from San Diego State. Assistant head coach Jeff Horton visited McQueen unexpectedly and talked to Jim about offering Robby for football. Jim and Robby made it clear the offer needed to be for both sports and Horton said the baseball program was 100 percent on board with it.
"If I get an offer from a school and it's just for football, most likely I'm not going to go there," Robby said. "A lot of good opportunities have come from all the hard work I've put into both sports.
"I know I want to be somewhere that the baseball is good. I want my future to have baseball in it. I want to play both for as long as I can."
Snelling won't make a football decision until his senior year. He wants to visit the schools that have offered so he can scout out their football and baseball. Considering he's happy with what he has with Stanford baseball, he will need to be won over by the combination of the two sports somewhere else.
"I've definitely thought about how from here on out it's probably going to be the football coaches from the schools who are going to be talking to me and putting me in contact with baseball coaches. They'll set up the meetings of when I'll meet the baseball coaches. They'll be running the bus."
Most of the schools that have offered Snelling have good baseball teams. Several top football programs share a campus with elite baseball teams. If football coaches will take the lead building relationships with Snelling then it seems reasonable that moving forward how well those coaches recruit him will be a major factor.
Stanford is recruiting Snelling to play outside linebacker. He has not been evaluated yet by Rivals and is a top 10 prospect in Nevada on another site.
Depending on which baseball site you look at, Snelling is one of the three best left-handed pitchers in his class with a fastball that tops out at 92 MPH. He also throws a changeup, curveball and slider.