5-star K.J. Henry talks top five, official visits & more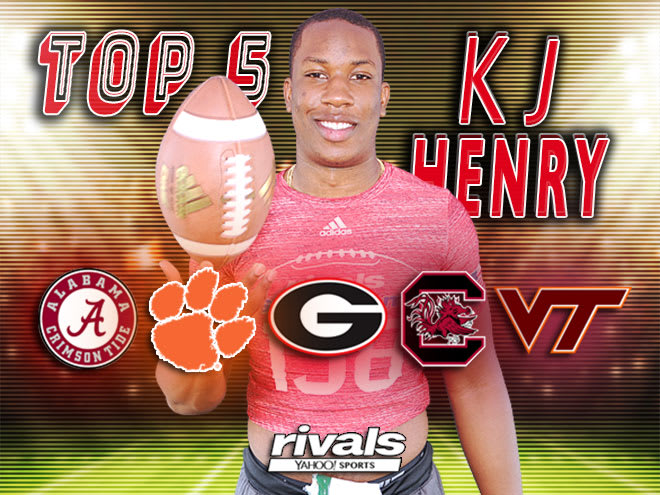 Five-star K.J. Henry has cut his extensive offer sheet down to five schools. The Clemmons (N.C.) West Forsyth defensive end goes in-depth on his final five contenders, where the process goes from here, and what kind of role his father, UNC-Charlotte running backs coach Keith Henry, is playing in his recruitment.
IN HIS OWN WORDS…
Alabama- "I've felt comfortable with them for a very long time now," Henry said. "Their staff, the players, their vision for each year, and everything they do down there they treat it so professionally and I feel like you're already there when you see how they are running things. I really like that aspect of what they're doing."
Clemson- "I think they're just going up as a program and that speaks to how they're recruiting and everything they've been doing since the National Championship," he said. "Their recruiting class is crazy stacked right now with so much talent. My good friend Xavier (Thomas) is there and I'm building a good relationship with Trevor (Lawrence) as well. The coaches down there have been really good to me. Coach Swinney, coach Venables, and coach Bates have all built relationships with me throughout this process but, at the same time, they give me my space when I need it and still stay in contact with me. To take that time out of their schedule and show me how important I am to them I definitely appreciate. They've obviously been a big school for me throughout the recruiting process."
Georgia- "They just got a guy I know really well in Zamir White," said Henry. "I see why he committed. Out of the schools in my top five, I would say Athens is the best college town I've visited. It's a very clean, nice place and everybody loves their football. Coach Smart is a great, humble guy and he's really doing it the right way. He reminds me of a mix between coach Swinney and coach Saban. I think he's that middle ground. All the other guys and the support staff have been keeping up with me as well. I definitely like to talk to them."
South Carolina- "What's helping South Carolina with me is that I can make an immediate impact there," he said. "I know that, if I were to commit there, I could be one of the top guys on the field with a good offseason of training. I could get a lot of reps. That's no disrespect to the guys that have on the field right now but, with my abilities and the way they want to use me in that system, I'm pretty comfortable understanding that I could have a big impact early. Coach Muschamp has taken my recruitment into his hands. To have the head coach personally recruiting me even though he is a very busy guy shows how important I am to that school."
Virginia Tech- "Tre Turner, a really good friend of mine, and DJ (Crossen), and all these other cats from North Carolina are going up there and that's a really big deal to me," Henry said. "I've known and grown up with a lot of these guys and they're seeing a lot of the same things I'm seeing in the school. It's how they treat you and their fan base. They show a lot of love to me. When I talk to my dad about this stuff I can't let that be a big deal to me but at the same time I'm enjoying it. The coaches are really coming after me. Coach Wiles and coach Fuente are always hitting me up. Those are things that are attracting me to that school."
Which school are people underestimating?- "I have to say Virginia Tech," he said. "I'm honestly taking all five of these schools into consideration and making it to the top five is a big deal. I feel like no school has a leg up at this point. They've been successful these last few years and they're trying to take this next step. To have these fans and to show all the love to me that they are, it's really an eye-opening experience for me. People are definitely underestimating them with me."
On the next step in the process- "It's a little sad to say but we haven't even made much progress on planning out my official visits," said Henry. "Now that football season is coming up, we're in two different places right now. My dad is worried about his season (at UNC-Charlotte) and I'm worried about mine. We're just going to have to sit down and talk about what we're going to do about these visits because it's all right around the corner. I do know that these five schools will be my official visits.
"The goal, and I'm 90-percent sure of this, is that I'm going to enroll early," he said. "The main goal is to commit and sign in December. If I have to wait because we're taking too long in this process then so be it but the worst thing that I could do is make the wrong choice and then have to back out of it. I just need to make sure I make the right choice the first time."
On the role his dad is playing in the process- "I think half of my dad is still making sure that I'm looking at the big picture, doing my research, and making sure I'll get a good education and get to the next level," Henry said. "The other half is making sure that I'm making the right decisions as an 18-year-old and building that trust. As far as the recruiting process goes, he's protecting me and making sure nothing crazy is happening but at the same time he is making sure that I see this for myself and trying not to get played while making smart decisions.
"Honestly I haven't really thought about playing with my dad but he told me a long time ago, and we're on the same page, the first priority is what makes me happy," he said. "He's my father and I've been blessed to have him in my life. I'm just going to have to do what makes me happy. I'm not planning on transferring to play with my dad. That's not my goal. Once I get to a school, I plan on staying. I know coaches can go anywhere at any time. It would be cool if he ended up at the same school I'm at.
"If a school wants to try to hire my dad to try to get me then that's fine," said Henry. "There is nothing wrong with that. They're going by the rules. That would take a school's probability of me going there up. I've made it very clear to everybody that I would love to play for my dad. We've had this conversation. If one of these schools in my top five does try to hire him, these colleges know that we are not a package deal. It's not a guarantee. It's still my decision but it would definitely play into any school's hands if they ended up hiring my dad."
RIVALS' REACTION
Henry is certainly taking his time with his recruitment. Official visits will be key for each of these schools and the timing of each of them is just as important. It will be very hard for Henry to bring his father along with him if he takes official visits during the season, like he previously said he wanted to. It will also be hard for him to wait until after the season to take official visits because there isn't much time between when he finishes playing and when early enrollees need to sign. There is definitely a lot Henry and his family need to work out but all of these schools have been doing a great job with Henry and his family. It's hard to pinpoint the deciding factor because it will likely be a combination of things. A lot of his decision will have to do with how he will be used on the field. Henry has great relationships with players and coaches at all five schools but one of the big wildcards could be a potential job offer for his father. Many schools have been known to go this route in the past.