Four-star RB Darwin Barlow discusses commitment to TCU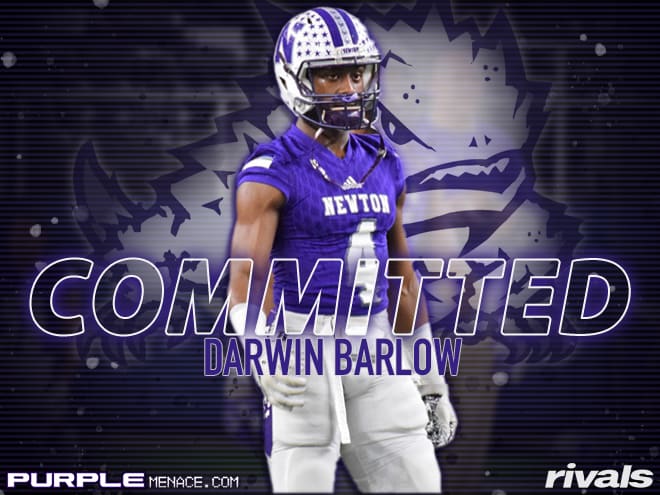 As one of Texas' top remaining uncommitted prospects coming out of the summer, Darwin Barlow had several programs' attention when he said that he planned to make his decision on Thursday evening.
Before a preseason scrimmage he, as well as four-star wide receiver teammate Tamauzia Brown, announced their commitments to TCU. The pair become the third-and-fourth four-star commitments in the Horned Frogs class and join previously committed teammate Josh Foster, who made his pledge earlier this month.
The trio of defending 3A state champions all visited the school at the end of July, and for Barlow, he said that visit is what sealed the deal.
"They wanted us up there for a cookout, be around the other commits, but I feel like that's when it finalized things and that's when I knew that's where I wanted to go," he said. "I got to sit down with some of the players and some of the administrators. I had been up there like four times and each time got better and better, this time I knew it was where I wanted to go."
TCU also had a prior commitment from Wichita Falls, Texas, running back Daimarqua Foster, but Barlow wasn't concerned about the two-back class after learning about the potential success that each could have. With a couple of other running backs in Darius Anderson and Sewo Olonilua set to handle the majority of the workload this season, he's fine biding some time until he can get worked into a feature role in the offense.
"They told me that they [Anderson and Olonilua] are almost out of there and the offense that they run is a two-back offense," he said. "They don't want one person to take all the beating - they want to swap guys out, swap guys in - and they told me that I could work my way in and be playing as a freshman."
Barlow has a sister enrolled at nearby North Texas and moving closer to her played a role in his decision. In addition to that, he said that he had a better relationship with the Frogs staff than the others that had been recruiting him heavily.
"They all communicate with me and it's always love when I go up there," he said. "They're always texting me so I know they like me. I'm talking about all their coaches - even the G.A.'s. Coach (Jeremy) Modkins is our recruiting coach and he's been coming down to see us.
"They're the same as (Newton), they're hard-working, they have a good offense and sometimes they move me around on my team now. Their work ethic, lifting weights and the way they practice is just like ours."
The staff did well to let Barlow know how much they thought of him as well. After Foster's commitment, Barlow had concerns about what that could possibly mean for their consideration of him, but he was informed he still sat squarely atop their recruiting board. Barlow said even though both backs have their strengths, that the coaches see him as an eventual three-down back and made him feel as though he had a crucial role in the team's long-term plans.
Barlow said that he is eyeing up a return for his official visit on the weekend of Oct. 20, when TCU hosts Oklahoma. Otherwise, all the ingredients are now in the mix for Barlow to feel content with his decision: A staff that has big plans for him, the brand of environment on campus he was looking for, with friends and family just around the corner.
"I've thought about what's best and going to TCU was what felt best in my heart," he said. "So I just stuck with it."