4-Star LB Names His Top Four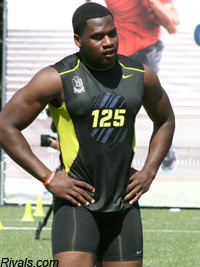 After feeling all of the highs and lows of the recruiting process and being courted by close to 30 of the nation's best college football programs,
Ebenezer Ogundeko
has now named the top four schools he is considering.
The leading team for the outside linebacker from Brooklyn (N.Y.) Thomas Jefferson is
Florida
.
"They're a pretty great team and they're on top of my list right now," said the 6-foot-3, 227-pound Ogundeko. "I like them because they have the position I want, where I can rush the passer and drop back. I like the campus, I love the coaches and I'm looking forward to going down there after my season for my official visit. I like Florida the most."
"I heard Clemson has a great campus and I'm looking forward to seeing it in person. I like Coach (Brent) Venables and I'm hoping to visit down there after my season.
"Coach (Chris) Kiffin called me from Ole Miss and it would be a great school to go to," he said. "I'd like to be able to go see the campus."
Ogundeko recently made the trip to Tempe and seemed to really enjoy his time there.
"The visit to Arizona State was great. I love the campus it was like a vacation place for me," said Ogundeko. "It was great to be on the west coast. They want me to play their "devil" backer which is a great fit for me. They have a great coaching staff there. Coach (Paul) Randolph and the other coaches are great guys."
Ogundeko has a very clear vision for his football-playing career in college.
"I don't want to be just a down defensive end I want to drop back at times, stand up at times and have fun with the game," he explained. "I want to move around a lot. I've been getting a lot faster, I'm using my hands a lot more and I'm not giving up on any play."
Through seven games of this season Ogundeko has 13 sacks and 60 tackles.