3-star Tennessee OL Briason Mays commits to West Virginia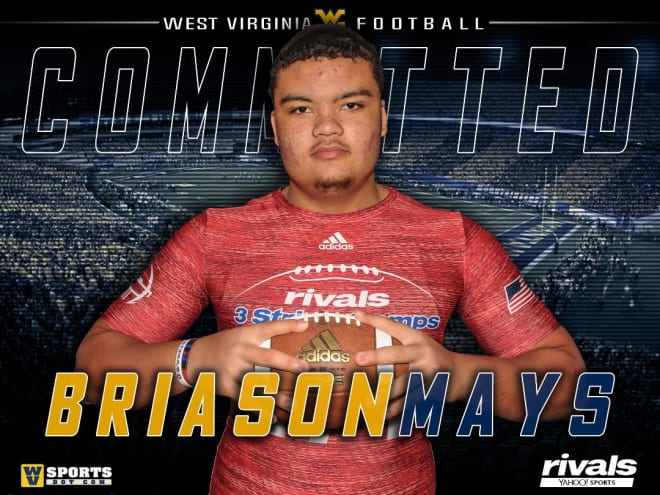 West Virginia's strong month of July on the recruiting trail finished off in style on Sunday as the Mountianeers nabbed their second commit of the day from an offensive lineman when three-star Bolivar (Tenn.) Central prospect Briason Mays announced his decision.
"I had a good relationship with the coaches and I like the university so it made my decision that much easier," Mays told Rivals.com. "I get to go up there with one of my friends and teammates is a big plus, too and I can't wait to get back to Morgantown and get to work."
The friend Mays is referring to his three-star West Virginia quarterback commit Trey Lowe, his high school teammate who committed to the Mountianeers earlier this month. The two had no Power Five offers when the year started, but are now set to play in the Big 12 together.
"We talk about it pretty much every day," Mays said. "Being from a small town like we are and making it to a big school is a great accomplishment. Having him there eased my mind a little bit, too."
While Lowe obviously helped West Virginia's cause with Mays, he had several other Power Five programs vying to land his commitment. But a strong relationship with offensive line coach Joe Wickline was also a major factor in his decision.
"When I took my visit I sat and talked with him for about an hour," Mays said. "After that I knew that it was the place for me. He's a really good coach and he has a lot of experience I think he's going to help make me a better player."
Mays plays tackle for his high school team, but projects to college as a guard. He said if all goes according to plan, he can see the field early in Morgantown.
"They like me at guard and they think I can have a lot of success in their scheme," Mays said. "If I come in and keep my head down and work hard hopefully I can come in and contribute early, which would be a big plus."
During his last trip to campus earlier this month, Mays got a chance to meet several of his future teammates, including three-star Georgia offensive lineman Oyenmwen Uzebu, who also made his commitment on Sunday.
"We were talking about committing on the same day when we were up there," Mays said. "We kind of planned it out but not really. It was nice it worked out that way because hopefully we'll be playing side-by-side."
Mays plans on majoring in criminology and will sign in December with hopes of enrolling early in January along with Lowe. He his commitment No. 14 for West Virginia in the Class of 2018 and when he signs with the school he and Lowe will be the first Mountaineers signees from Tennessee since four-star quarterback Barry Brunetti in 2010.