2015 FL ATH talks LSU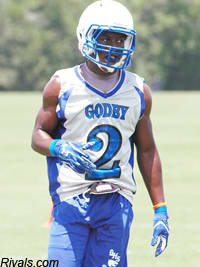 Class of 2015 Tallahassee (Fla.) Godby athlete
Jaylin Hayward
is quickly becoming a hot commodity among schools in the Southeast with three big time players making a strong push for the rising junior.
"Right now it's
LSU
,
Florida State
and
Alabama
," Hayward said. "They're the ones talking to me the most right now."
Hayward recently returned from camping at LSU over the weekend and came away impressed with Baton Rouge.
"It was pretty awesome," he said. "There was a lot of talent, like 600 kids were there, so you really had to be up the coach's butt to get reps."
The Tigers have already offered and Hayward said he got some extra attention from the coaches over the weekend.
"They were impressed," he said. "More with me on defense. I had to show what I could do as a defensive back. They told me they love me a lot and that I'm up there with the top corners in the nation. I even surprised myself with how good I did on defense."
As the summer wears on, Hayward has vowed to put his name into the discussion with some of the top players in his class.
"I'm not highly ranked yet but I play l like it," he said. "At LSU I got to go against some of the best and it helped me improve my game and I really appreciate that."