2015 First Five-Stars: Damien Harris
They are the best of the best. The players wanted by every program and destined to make a big impact at the college level and beyond. Rivals.com has identified the first five-star prospects for the 2015 class and is unveiling them this week. Ten prospects have been awarded five-stars but are not ranked at this time, and we will profile two each day. One of today's five-stars is Berea (Ky.) Madison Southern running back
Damien Harris
.
Attributes: 5-foot-11, 205 pounds. 4.51 40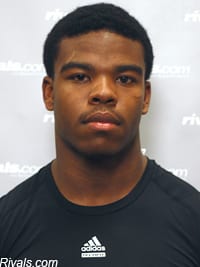 Position: Running back
Height: 5-foot-11
Weight: 205 pounds
High school: Berea (Ky.) Madison Southern




Scouting Report: Harris has two key elements that can't be coached: size and speed. Those attributes, combined with terrific vision, make Harris look like a college-ready back prior to the start of his junior season. He's also very strong, and he has the build to add even more muscle to his frame. He's built to carry the ball 20-plus times per game and harkens back to more old-school power backs, but he also has the ability to catch the ball and make defenders miss in space.
Analyst's Take: "When you look at Harris physically, you see a guy who already looks like a BCS-conference running back, then you realize he's just about to start his junior year of high school. He's explosive and powerful and can really plant his foot and go when it comes to cutting in the open field. Not only does he have the strength to run players over, but he also has the speed to run by them. The 2015 class is loaded with running backs, and right now Harris is standing above the rest because of his unique combination of size, speed and skills" -- Woody Wommack, Rivals.com Southeast analyst
Why He's a Five-Star: "In a year loaded with top-end running backs, Harris stands out because he has the size and burst above the rest right now. He sees the hole, hits the hole and can be gone in a flash despite being a big back. He's also very quick cutting and has start-stop ability, but what I like the best is his finish. He won't go down easily. It's odd because the last two years we've had many five-star running backs but 2015 is much, much deeper overall. That being said, Harris could be one of only a couple who end up as five-stars, and that makes him special. Big backs with a little wiggle and excellent speed are hard to find, and ones who like to deliver punishment and work hard are even rarer." -- Mike Farrell, national recruiting analyst, Rivals.com
His Coach Says: "Size-wise right now, he's up to 210 pounds and he's still running low to mid-4.3 [seconds in the 40-yard dash] and he's just improving his game across the board. His speed, with his size, is very unique. He's definitely not going to get smaller and slower; it's no question. He's got all the intangibles that help a young man get to that point. He's a good person, he makes good decisions, he's a good kid, he's got good work ethic, and he's a good student, as well." -- Jon Clark, head football coach, Madison Southern HS
Odds and ends:
Harris rushed for 1,911 yards and 37 touchdowns in 10 games last season, and he caught 10 passes for 176 yards and three TDs. ... Harris grew up idolizing former Michigan running back
Mike Hart
, and he cited the desire to follow in his footsteps when he committed to the Wolverines. ... Committed to Michigan over
Ohio State
,
Kentucky
and several other programs.
NFL Player Comparison: LeSean McCoy, Philadelphia Eagles

Click
Here
to view this Link.
[rl]