2004-05 Rivals.com All-America Team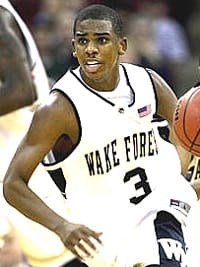 It's been a great college basketball season thus far, and things should only get better with the NCAA tournament set to get started this week.
In addition to several great teams that will be vying for a national title, numerous great players also will be featured in the national spotlight in the coming weeks.
So just who are the best players in the country? Those certainly are tough choices to make, but our editorial team sat down to pick the best and after much debate selected the 2004-05 Rivals.com All-America Team.
The squad consists of a first, second and third team, as well as honorable-mention selections. Of the 15 players to be named to the first, second or third team, 14 will display their abilities in the NCAA tournament.
The ACC headed up the first three teams with six selections, while the Big 12, SEC and Pac-10 each had two players chosen. The Big Ten, Big East and Moutain West rounded out the top-15 selections with one player each.
The following are the 2004-05 Rivals.com All-America teams. On Wednesday, Rivals.com will release its choice for National Player of the Year.

Honorable Mention: Taylor Coppenrath (Vermont); Nick Fazekas (Nevada); Ryan Gomes (Providence); Francisco Garcia (Louisville); Joey Graham (Oklahoma State); Luther Head (Illinois); Adam Morrison (Gonzaga); Anthony Roberson (Florida); Lawrence Roberts (Mississippi State); Nate Robinson (Washington); Dijon Thompson (UCLA); Ronny Turiaf (Gonzaga); Bracey Wright (Indiana).
Photos from the Associated Press.